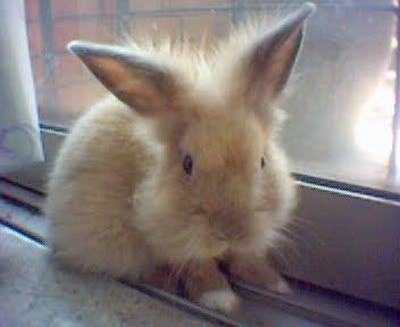 IRRESISTIBLY HOT Angora male, two and a half years old, seeks companionship of funny, friendly rabbits or humans of any gender. If you like playing catch, stroking soft surfaces, having a warm rug of high-quality fur under your feet, or entertaining the whims and fancies of a lonely,
sexually charged virgin
bored, neglected bunny, please reply to this post with the validation code: 'HOT BUNS'. Confidentiality is assured.


Special note from rabbit: I ran up the stairs FOUR times tonight cos not one of 'em two-leggeds were around, and I was feeling bored as usual. Each time I reached the top and stood at the bedroom doorway, my 'owner' would shout 'Lump!' in a grr-ing kinda tone it hurts my ears even to think of it and she'd try to trick me into going back down again. I stood my spot but NO! she had to take some blue thing and aim it at me, then like magic, it rained! Indoors! I HATE it when it rains indoors! Especially on my face or just me, cos no one else seems to get wet. Sometimes I think that that younger two-legged is a god or miracle worker, the way she makes yummy food appear out of nowhere, but for all those

other

times (which would fill 90% of the clock), I think she sucks.

P/S: That pic of me was taken when I was much younger. You can't see cos of the crappy phone cam quality, but I actually look rather like Brad Pitt.